1 minute walk from Sangubashi Station.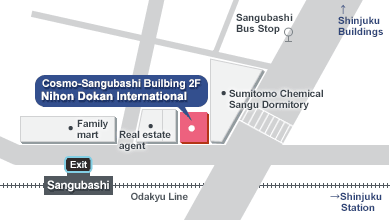 Nihon Dokan International
Cosmo-Sangubashi Building, 2F 4-1-5 Yoyogi,
Shibuya-ku Tokyo 151-0053 Japan
Further Information
TEL: 03(3370)7601 / FAX: 03(3370)7834
Our office and studio are located in Yoyogi, just a one minute walk from Sangubashi station (2 train stops from Shinjuku Station on the Odakyu Line - please take the local line).
When you exit Sangubashi station (there is only one exit), turn right, passing a real estate agent.
Our office is on the left side of the street inside the Cosmo Sangubashi Building; 2F-Main office & Reception (1F is a dental clinic). You can use the elevator or take the stairs.
Please feel free to call us before visiting. Our English-speaking staff will be happy to talk to you.