TOP > Divine Master Tenrai Hayashima: His Life and Times

March 3, 1910

Born as a direct descendant of the Otakasa clan, founders of Kochi Castle
*The House of Otakasa is a branch of the Murakami Genji, the original disseminators of Doin in Japan. The divine master's adoptive family of Hayashima is in turn the guardian of the ki medicine tradition in Japan.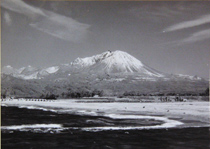 THE DIVINE Master at primary school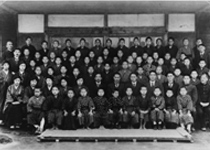 1960

Founded the Shobukan Dojo in Kamakura.
Adapted and modernized a 5,000-year-old Chinese method for breathing and attracting ki through Doin-jutsu and began disseminating his unique method of Doin-jutsu, and Doko-jutsu.
1965

Appointed 13th head of the Lung Men school of Taoism.
Also became chief advisor to the Szu Han T'ien Shih Fu (office of the celestial master advising the Han Dynasty), the highest office of Doin.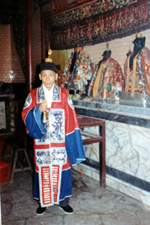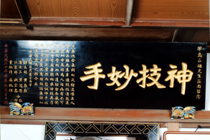 1975

Introduction to Doin-jutsu: People do not die from Disease published in Taiwan
1976

Launches the magazine Sengaku
1977

Japanese Taoist organization renamed 'Nihon Dokan' with headquarters relocated
to Iwaki City, Fukushima Prefecture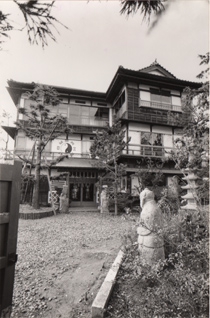 Founding of Nihon Dokan.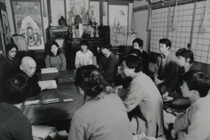 Delivers lecture at old headquarters
1981

Launches the monthly magazine, Dokan
1982

Divine Master Tenrai Hayashima's book Doin-jutsu Nyumon (Introduction to Doin-jutsu) is a bestseller.
He appears on the NTV talk show, Look, Look Konnichiwa. Subsequently makes many TV appearances.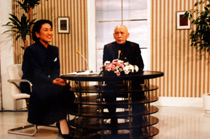 ON TV in 1982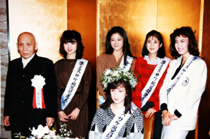 HEALTH Festival Celebrating the Sake Bath in 1984
1983

Delivers a lecture at the Japan Society for Oriental Medicine in 1983.
Lectures nationwide. Demonstrates Doin-jutsu and Doko-jutsu on TV Asahi's Afternoon Show.
1985

Becomes a regular guest on Fuji Television's Morning Apple.
1986

Receives the title of Taoist Master from Taiwan's Szu Han T'ien Shih Fu
1987

Travels to Taiwan to meet fellow Taoists. Receives rapturous welcome everywhere.
Appears on Okusama TV Jockey. Becomes a celebrity on daytime Japanese TV.
MEETING fellow Taoists in Taiwan in 1987
1990

Becomes advisor to Chinese magazine on ki, Kiko.
Receives prize for contribution to society and culture from the Association of Promotion of Japanese Culture.
100th edition of the magazine, Dokan、celebrated at the Hotel New Otani in Tokyo.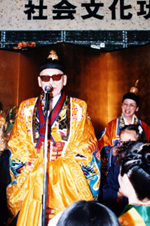 1991

Participates in the Chinese Taoists' international conference in Wendeng. Receives rapturous welcome, 'the sage has returned,' from local residents and TV station when visiting the Kunlun Mountain of Shandong Province, China.' Monument erected displaying his calligraphy: People do not die from disease. Embarks on tour of China's Silk Road.
Greeted with the highest form of welcome, the Ceremony of Opening Light at Beijing's White Cloud Monastery.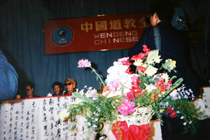 PARTICIPATING in the Chinese Taoist Society's international conference in Wendeng in 1991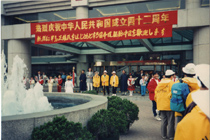 TRAVELLING the Silk Road, 1991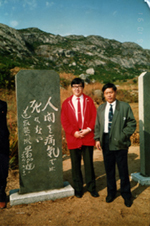 MONUMENT at Mount Kunlun, Shandong Province showing his calligraphy
1992

Holds the 1st Jizo Festival to promote interaction with children Gifts a mikoshi shrine to the children's festival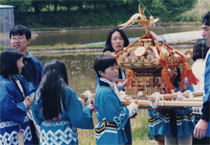 Gifts a mikoshi shrine to the children's festival
1993

The Peruvian paper the Peru Shimpo carries a large article on the divine master.
Calligraphy class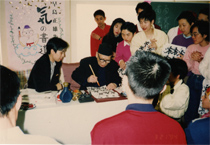 1993 Spring Festival and welcoming party for new Taoists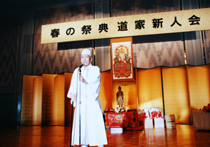 AT the launch of the Japan Gokokuto Party in 1993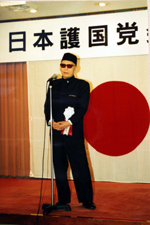 IN 1994 at the start of Taikisha which is the precursor of Nihon Dokan's musical performance troupe today. Nepalese statue of Buddha presented to Nihon Dokan.
1995

Travels to the Yaeyama Islands in Okinawa
1995

Trip to Yaeyama Islands, Okinawa Prefecture. Visits the famous hotsprings of Japan; Cheju Island, South Korea
1997

Creates the musical performance troupe, Nihon Dokan Ongaku Jikkotai.
1997-2001

Grand Master Masao Hayashima's work is published in English, German and Spanish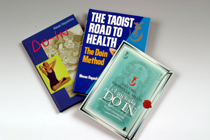 English, German and Spanish editions of Masao Hayashima's work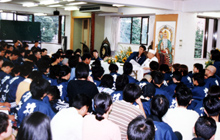 Delivering a special lecture at the Taoist school in Tokyo
1999

Tenrai Hayashima passes away.
Myozui Hayashima becomes grand master and the 14th head of the Lung Men school of Taoism