TOP > Divine Master Tenrai Hayashima Journey: In Search of Taoism (3)

Taiwan

Taoism still attracts a strong following in Taiwan, and each region has a Taoist monastery.

Divine Master Tenrai Hayashima visited Taiwan several times and has many Taiwanese friends. When he performed Doin-jutsu in Taiwan, the Taiwanese Taoists exclaimed in amazement, saying, "This is the essence of Taoism!" The divine master visited some small monasteries, deepened his ties with Taiwan and it was indeed a heart-warming trip.
Hong Kong

Taoism in Hong Kong is said to be synonymous with the Quangzhen school. Shrines abound and monasteries of the Lung Men school exist too. However most of Taoists became commercial practitioners under the regime of the time and it was a pity not to be able to see Taoism in its original state.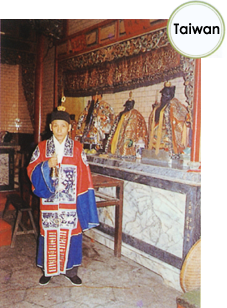 Divine Master Tenrai Hayashima
in formal Taoist attire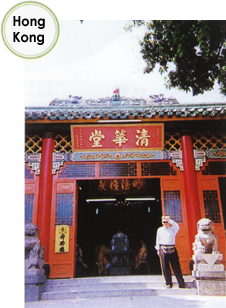 At a Taoist monastery in Hong Kong
Jeju Island

Jeju Island abounds in some things, lacks others. It has breezes, stone, hard-working women, humanity, nature and fruit. It has very few beggars, burglars and gates. This speaks volumes about what a peaceful island this is.

South Korea is described as a Confucian country. Yet in the past there was a following for Taoism as evidenced by ruins such as the Heavenly Emperor's Residence. The gentle presence of the stone sculpture called "Don hareubang" greeted the divine master.

Divine Master Tenrai Hayashima spoke about
having a Don harueubang sculpture at Nihon Dokan
even before visiting Jeju Island.
Today a sculpture grins and welcomes guests
at Nihon Dokan headquarters.
Peru

In the August 6, 1993 edition of the Peru Shimpo, a Japanese-language newspaper in Peru, announced the impending visit divine master. "Nihon Dokan Docho Masao Hayashima to Visit Peru." "5,000-Year-Old Health Regime Cures Chronic and Mental Illnesses."

Divine Master Tenrai Hayashima was planning to visit Peru that October. The people of Peru including the Japanese-Peruvian community were eagerly anticipating his arrival. However due to global conflicts and other factors, the divine master was not able to go. Instead Nihon Dokan donated many books written by the divine master and made a large contribution to the spread of Doin-jutsu and Taoism in Peru as well as fostering friendship between Japan and Peru.



The Article announcing the divine master's visit to Peru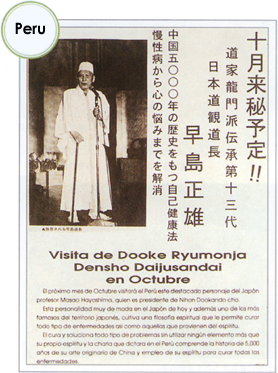 Firing on all cylinders

Divine Master Tenrai Hayashima was always firing on all cylinders.?

Today, thanks to his efforts, research on Lao Tzu and Taoism is taking place all over the world including in European countries such as France, England and Germany, France and Russia as well as in the United States, Australia and South America. The divine master either visited these countries himself or sent his books that have as their central idea the importance of mui shizen or living naturally with the tide of Tao in a non-self-centered, mentally unfettered state.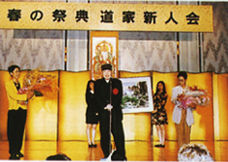 With Taoists from around the world at
the Taoist Newcomers' Spring Festival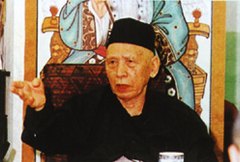 Explaining the importance of mui-shizen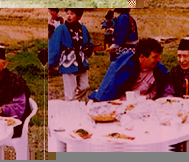 With the Canadian economist
Charles Rummel who researched
Japanese hotsprings
Divine Master Tenrai Hayashima also travelled extensively throughout Japan teaching Doin-jutsu, Doko-jutsu, Seiza-ho (seated meditation), Senshin-jutsu and spiritual enlightenment through calligraphy. For those who needed it he taught a special breathing technique as well as Taoist sexual practices and gained the appreciation of many people. Wherever he went, people would gather.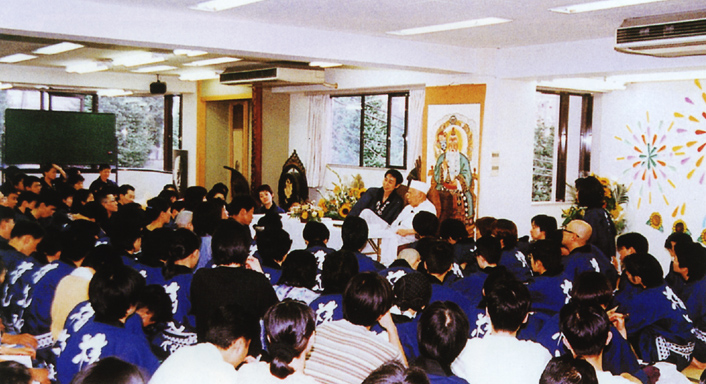 People would gather wherever Divine Master Tenrai Hayashima went.